Get A Free CD When You Buy
A Pair Of Tickets To Select Shows
Get The Latest Jimi Hendrix CD

Machine Gun: Fillmore East First Show 12/31/69

with Your Purchase Of A Pair Of Tickets
Every pair of tickets purchased comes with one (1) physical CD of the new Jimi Hendrix album, Machine Gun: Fillmore East First Show 12/31/69 scheduled to be released on September 30th, 2016. You will receive an additional email with instructions on how to redeem your CD. Tickets must be purchased at least 24 hours before each show date, and must be be redeemed by March 29, 2017 for eligibility. Tickets purchased on the day of the performance, or purchased in-person or by telephone, or purchases made via third parties or via ticket resellers are not eligible. US/Canadian residents only. One CD per pair of online tickets purchased. Check event listings for venues participating in this promotional offer.
Free CD Offer is available at the following shows:
↠ Click to view all Tour Dates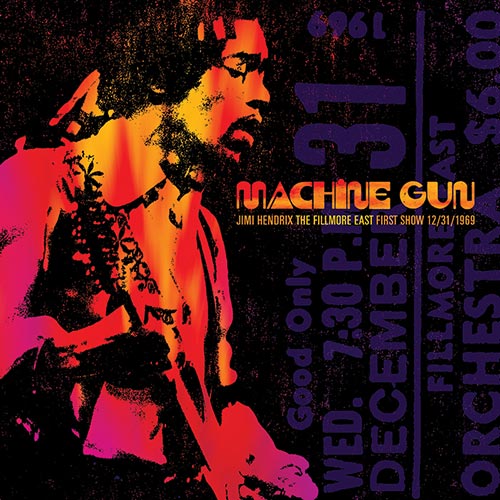 Jimi Hendrix's electrifying first Band of Gypsys performance! Mastered by Grammy Award-winning engineer Bernie Grundman Never-before-released material from the first New Year's Eve set!
Jimi Hendrix closed 1969 by disbanding the Jimi Hendrix Experience and assembling a new group, the short-lived Band of Gypsys. They debuted in four historic concerts at New York City's Fillmore East — two sets on New Year's Eve, and two more on New Year's Day 1970. The latter shows were combined and edited for the famed Band of Gypsys album in April 1970.
The first night's first concert is now getting a proper release as Machine Gun: The Fillmore East First Show 12/31/69. The new album marks the first time the complete early set has been released in any configuration. Enjoy this new material on Hybrid Stereo SACD from Analogue Productions!
Track Listings:
Power Of Soul
Lover Man
Hear My Train A Comin'
Changes
Izabella
Machine Gun
Stop
Ezy Ryder
Bleeding Heart
Earth Blues
Burning Desire
Also available on CD, SACD, Vinyl & Digital.